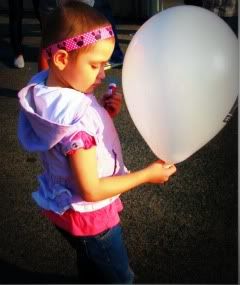 Go read this article. Go ahead. We'll wait.
New Drugs Needed in Battle Against Childhood Cancers
Did you catch this part?
"Cancer continues to claim the lives of more children than any other disease. This statistic has not changed in more than 20 years."
Twenty years.
If you're reading this, you probably know about my (then) 4 year old daughter, Gabby, and how she was diagnosed with Acute Lymphoblastic Leukemia in January, 2011.
This was Gabby then.
Adorable, eh?
Did you know she was treated with a pill nicknamed "The Red Death"?
Did you know one of her treatments involves giving her - a four year old - TWELVE pills once a week during maintenance, the EASIEST of the 4 treatment cycles?
Did you know, in her treatment over just the last 24 months, she's had almost 2 dozen lumbar punctures?
There must be a better way.
Unlike adults, children don't have early access to new treatment options.
Drugs go through testing, for years, on adult patients only.
Pediatric oncologists are using the same drugs that we used 40 years ago.
In the past 20-plus years, there have been numerous new agents approved to treat adults with cancer, but only one new agent has been approved for children with cancer and that was chlofarabine in 2004.
PCRF
is committed to funding research that will improve the care and survival rate of children with cancers.
You can help.
First, you can
CLICK HERE
to donate to PCRF. PCRF is committed to funding research to find new cures and treatments for children with cancer, and to improve their quality of life while in treatment. .
Second, if you are in SoCal, and looking for a spring Half, 10K, or 5K, consider running the PCRF Cinco De Mayo Half Marathon! You can
CLICK HERE
to register.
There is a VIP Training Program available, as well - in exchange for raising funds for this fantastic cause, you will receive full coaching, prizes, access to the VIP area pre- and post-race (including FREE beer and food!), and team runs every weekend. Learn more about the
VIP Training Program HERE
.
Your support means answers. It means cures. It means better treatments for kids like my daughter.
Your support matters.
If you have any questions, please email me - hmgiraffy@gmail.com
And you may ask yourself, how did we get here.....
Diagnosis
The Day the Hair Bailed
Why I'm Fundraising
A day in Treatment
Tricky Pill Giving, 101
Critical Drug Shortage, and why it sucks
Childhood Cancer, in the numbers
Part 1 - Two Years Ago
Part 2 - Hope is the dream of a soul awake
Part 3 - What is important in life is life
Part 4 - TTT